'How to be Brilliant' by Michael Heppell
Book review by guest blogger Tim Clarke
This book takes the reader through a journey into an exciting new world. For those willing, it offers the chance to become 'brilliant'. On the way, there is fresh self-awareness, and new possibility.
The book was written by professional public speaker Michael Heppell, with help from his wife Christine. Michael is a rather loveable, intelligent and plain-speaking Geordie. He has coached athletes, movie makers, industry leaders and celebrities around the world.
My favourite bit
My favourite bit was when I was challenged to build a 'Mastermind Group'. This is where you envisage 2 or 3 influential people giving you advice. The advisers can be anybody, and you start by allowing them to introduce themselves to each other. Next, each in turn gives you great advice- about one area of your choosing. ("What would Bill Gates say you should do etc?") This was brilliant! I went running. On the way out, my advisers spoke into my mobile phone. On the way back, I listened to their advice. I had Michael Palin, (who was being a bit silly), and then Mahatma Ghandi and Churchill to add some credibility. It was such fun.
It's all about taking action
There are some great exercises to do, and in some ways the book is more of a mini-coaching course than a good read, although it is both. The 'wheel of life' has been around since the 1930s, but is just as relevant today as ever. So why not give it a spin?
Michael has some great takes on 'limiting-beliefs'. This is where the reader can break through the restraints that have held them back in the past.
A lot is asked of the reader-this is not really for the passive. It requires a sense of self-belief. It also requires the reader to put the book down and write stuff out. One or two people in the book-club said they had not had time to complete all the exercises. There is a checklist at the back of the book, so someone said that you can re-visit the book at a later date.
And the 'later date' is relevant. Michael acknowledged that nobody is perfect. Being brilliant is great place to aim for. You can even become 'brillianter', although I thought that sounded a bit cheesy.
About BookCLUB
On the subject of 'later dates', the ActionCOACH BookCLUB is open to anybody with an open mind. It takes place on the last Thursday of each month at 7.45pm. There is serious stuff to read and talk about. Happily, there is much playful banter to aid the thinking. BookCLUB is chaired by business growth specialist Kevin Riley. Kevin has a masterfully caustic wit – which is handy. Many of the BookCLUB members like to take the mick out of Kevin, if they can get away with it. It is okay – just make sure you have read the book first! New members are welcomed every month with a free session. Visit the events page for full details and to sign up today.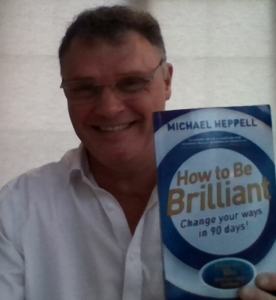 About Our Guest Blogger: Tim Clarke
Tim Clarke is a Leadership and Business Coach working in the Banbury area and online. Tim is a CPD registered coach who helps clients with Continuing Professional Development (CPD) requirements. Tim also offers career planning, confidence coaching, leadership coaching, public-speaking and presentation skills, resilience coaching, team-building and interview preparation. You can find Tim on
LinkedIn
, and online at
businessandleadershipcoaching.com
.