'Building a StoryBrand' by Donald Miller
Book review by guest blogger Charlie Budd
'Building a StoryBrand' explains how to use the structure of stories to market your business. I guess you could call it a bit 'meta', to use the vernacular – the book takes you on a journey from confusion to clarity, about how to take your customers on a journey… from confusion to clarity.
So How Does It Work?
Star Wars.
Not seen it? (Let me just facepalm and shake my head.) You really should – it's one of the clearest examples of the classic story structure in modern culture. If you've not seen it, it's basically the same structure as Harry Potter, The Matrix, The Lion King, Lord of the Rings…
Humans have always been drawn in by stories and making a potential customer the 'hero' of your brand story helps them to clearly identify how you can help them.
A variation of the basic story structure has been used since ancient times, refined, re-explained, reimagined.
Aristotle's three act structure used 'the set up', 'the obstacle' and 'the solution' as a basic guide to stories and plays.
The 'monomyth' or the 'hero's journey' by Joseph Campbell is often quoted as one of the best modern clarifications of the classic, satisfying story.
And one of my favourites is Kurt Vonnegut's very short, brilliant and entertaining explanation of the 'shapes of stories' – search for it on YouTube.
The Story Structure For Business
Donald Miller breaks down the story structure thus:
Meet the hero – they have a problem – they meet a guide – who give them a plan – and a call to action – the hero avoids being overcome by the problem – and succeeds in their quest.
What Donald says is that too many businesses identify themselves as the hero, explaining how wonderful and clever and marvellous they are – which doesn't engage a potential customer, it's just trumpet blowing. For real success in marketing, you need to identify your potential client as the hero, work out their problems, be their guide, give them a clear plan, make very clear the action they have to take, and help them to avoid failure and succeed in their quest.
What's great about Donald's book is that he breaks it all down very clearly – outlining what kinds of problems clients can have – from internal, to external, to philosophical. He explains what you need to do to be a guide, and he urges absolute simplicity in the plan you give clients to follow.
You can use this structure in how you lay out your website, for a landing page, in social media posts, in videos, in presentations, while networking, for marketing campaigns and even sales strategy… it's endless.
I value Donald's approach for two reasons – the story structure really works within human psychology – it's why we love films and books which use that structure, and his clarion call for simplicity and clarity is one I certainly need to take to heart (and keyboard).
What People Said At BookCLUB
When we met up on Zoom to discuss the book, nearly everyone thought it was brilliantly clear on how to communicate with potential clients. Several people had used the ideas to change their websites and others who managed teams had bought a copy of the book for every member of their team.
The only real criticisms I've heard are that Donald uses the book as a lead generator for his courses and coaches. I think it's fair enough he does this, he's running a business, and the book still contains great value in itself. And some say there's not enough detail in how to apply the StoryBrand strategy through every marketing channel. I disagree, it would make the book overly long, complex and rapidly dated.
It really is a book that I think is essential for any personal library of business books.
Buy it.
And watch Star Wars.
About BookCLUB
BookCLUB is a monthly meeting of business owners who want to continually grow and develop themselves through reading. On the last Thursday of each month, the group meet to discuss a hand-picked book chosen by business growth specialist Kevin Riley. Learnings, views and opinions are shared in an open forum, followed by group business coaching and the opportunity to network. New members are welcomed every month with a free session. Visit our events page for full details and to sign up today.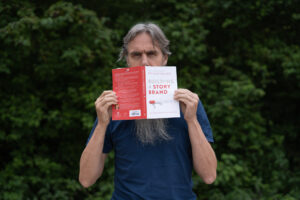 About Our Guest Blogger: Charlie Budd
Charlie Budd,
The Tall Photographer
, lives in Stratford upon Avon. Charlie is a member of the ActionCOACH Warwick BookCLUB and a valued member of our business community. Charlies services include Commercial Videography, Commercial Photography, Bespoke Packages, Social Media Advice and Art Photography. You can find Charlie on
Twitter
,
Instagram
,
LinkedIn
,
Facebook
 and at
thetallphotographer.co.uk
.