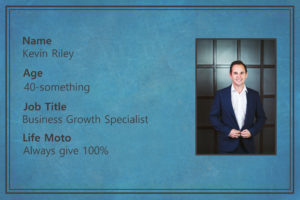 You may have already read the 'About Kevin Riley' page on our website, however I would like to share with you the unofficial, behind the scenes version of who Kevin is and what makes him (in my opinion) an exceptional Business Growth Specialist. Having worked as Kevin's Personal Assistant since May 2019 I have come to know and understand the many reasons that drive him to excel in this profession.
I believe that the people we learn most from are those who have learnt from personal mistakes or experiences during their life. Those who can turn a negative into a positive and continually move forward without dwelling on the past. They are also the type of people who can really connect with others, uplift them, motivate them and leave them with a feeling of inspiration that they can carry into their own lives.
All of this is true of Kevin and I want to share with you the reasons why….
A brief history of Mr R
Kevin grew up in Zimbabwe with his parents and two siblings before moving to Saudi and then the UK. During his early teens his Dad became ill on a family holiday, he was diagnosed with terminal brain cancer and sadly passed away 12 months later, aged 51. It was an incredibly difficult time for his whole family and Kevin began to make decisions that would shape the rest of his life.
Realising how short life can be, he vowed to always look for the good in every situation, to find ways to learn and grow regardless of the circumstances. He made a commitment to himself to live life to the absolute full, to live in the moment, to maximise every opportunity and to enjoy every minute. When you meet Kevin, you will find he is a high-energy, positive person with an infectious way of making you feel like anything is possible.
When he was 22 he was appointed the position of Sales Director with the travel company he worked for. Two years later, believing that anything and everything was achievable, he set up his own travel company and stepped onto a steep learning curve in the world of business.
He quickly learnt that getting what he wanted wasn't achieved through voicing demands, but by conducting himself with integrity. He focused on delivering a high quality of service, fulfilling promises and exceeding expectations. His company went from strength to strength and his confidence as a business owner grew with it.
In his early 30's his brother passed away after a long battle with mental illness. Before he died, Kevin played an integral role in Sean's acceptance of treatment and spent a lot of time listening to him, focusing on him and truly understanding him. He became acutely aware of the importance of listening, hearing and staying present in a conversation, as well as really getting to know and fully understand a person.
In his mid-30's Kevin received a call to say that his Mum had been rushed into hospital and was expected to die that same day. She held on for a further 3 months and during that time they opened up to one another in a way they hadn't done before. By asking difficult and uncomfortable questions, Kevin was able to unearth the roots of his Mum's hopes and fears and soothe or fix them so she could move forward. For his Mum, this meant that when she passed away, she was at peace and ready to go. For Kevin, this poignant experience opened his eyes to a new way of helping people. As incredibly hard as it had been to keep asking tough questions, he understood the importance of the lesson – shying away from tough conversations and situations helps no-one. To truly make a difference to others, you must be willing to keep digging, keep asking, and keep listening until the person you are helping can resolve their problem(s) and move on.
Deeply touched by these experiences, Kevin is now an exceptional listener, hearing with his eyes, heart and ears. He has a high EIQ and an uncanny ability to know you more than you know yourself.
Kevin's business experience
I have had the pleasure of working for three entrepreneurs in my career and I always find myself inspired by the energy they inject into their business and their life. Kevin is no exception to this rule; in fact I think he may have created it!
During the 19 years his travel company was operational, Kevin and his team grew it into a £20 million turnover, award-winning business.
He learned the importance of finding multiple ways to market their products, placing emphasis on the product ladder and creating the ability for people to buy more than once from his company. He knew he had to differentiate his business by means other than price; any competitor could offer a discount but he found ways to offer exceptional customer service and add personal touches that customers remembered far longer than a £50 discount.
Kevin educated himself on the job to fully understand the details and data that made his business successful, and how to use that information to his advantage. He has always had a love of data and (sometimes annoyingly for me!) he has a memory that never forgets. He is exceptionally talented at finding ways to increase profits, develop and streamline systems and extract high-level value from KPI and financial reports.
As with every business, Kevin enjoyed the highs but also experienced the lows. When his travel company was in its infancy, he allowed it to grow at speed without a proper structure in place. He was so focussed on growth that everything else suffered. The results were as you would expect – disorganised and below expectations. The business lost sight on delivery and the bottom line suffered. They lost control of one of their brands and it plummeted from a trusted, top performing brand to a poor performer. This was a notable career low which he now uses as an example for other business owners to learn from and avoid.
To this day he speaks enthusiastically about the people he employed and the business he created. He worked hard to ensure that he hired the very best people and surrounded himself with those who were better than him in different areas of the business. Those who were skilled in ways he was not. Those who embraced and believed in the culture he was building and the vision he was working towards. He placed emphasis on nurturing his team and made it a priority to motivate and develop them resulting in a loyal, committed and striving workforce of 70 employees. He counts that team as one of his greatest career achievements.
His travel company closed unexpectedly in 2017 when he discovered a large fraud from a shareholder and director which meant he had to cease operations immediately. He had to stand up in front of his loyal employees (who were not just colleagues, but friends) and tell them that effective immediately, they no longer had jobs. The wide-reaching impact on all these individuals and their families was not lost on him. His thriving and bustling offices turned still and silent overnight. The effect this had on Kevin both professionally and personally was devastating.
A coach called Kevin
True to the vow he made to his teenage self, Kevin again looked for the good in the closure of his business. He spent time reflecting on what happened and all that he had learned. He knew that he would not allow the final few days of his business shape the exhilarating 19 years prior.
He made the decision that he was going to do all he could to touch as many business owners as possible to ensure they never have to experience the loss he experienced. He turned to the profession of business coaching and started a new business; ActionCOACH Warwick.
You may be familiar with the statistic that '90% of start-up companies fail in the first 5 years'. Have you ever asked yourself why? And thought about what you would do to avoid being part of this statistic? Kevin has; and he has dedicated his new career to making sure your business is in the 10% who succeed. He is a firm believer that 'being in business should give you more life' and coaches business owners to work on their business, not in their business… resulting in a business that is a profitable, commercial enterprise and can work without you.
Kevin has a natural ability to build relationships that truly matter. In his role as a Business Growth Specialist he works hard to coach business owners to excel in their area of expertise and to achieve their goals and dreams. He is dedicated to making a difference to businesses by sharing his skills, helping you avoid pitfalls and giving you the tools to achieve your goals.
I truly believe that the years of knowledge and experience Kevin has gained can help business owners from all walks of life regardless of their business type and industry. He is the kind of person you want to open up to, the kind of person you can trust and the kind of person who creates a positive impact in everything he does. He has shown resilience in the face of adversity and the ability to overcome the odds in his professional and person life. Who better a person to coach you towards success than one who has achieved all this before they are 40-something?
Claim your free business coaching session