Create the roadmap to your success with GrowthCLUB – the 90 day business planning workshop
Many business owners get caught up in the day-to-day running of their business. Finding time to plan and to reflect on what's working and what isn't can be extremely difficult.
We will inspire and teach you how to write a 90 day business plan that will drive success to your business. You will also gain access to some of the best business tools for success.
By the end of your first GrowthCLUB, you will have a clear picture of where your business will be in 90 days time. As well as a step-by-step plan to get you there.
How does GrowthCLUB work?
GrowthCLUB is a business growth strategy workshop that makes creating tactical plans for your business both educational and fun. You will be trained on strategies that will help you master your time and be clear on your priorities. It will also equip you with the mindset and tools you need to achieve your goals, including a 90 day business plan. What to expect:
A one day business planning session, held once per quarter, to map out your next 90 days
Workshops and focus sessions with likeminded business owners
The opportunity to learn from the strategies implemented in other businesses
The opportunity to broaden your sphere of contacts by networking with other business owners in your area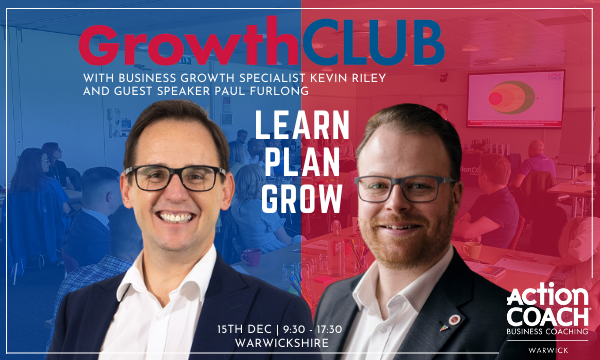 This month we are delighted to announce our guest speaker Paul Furlong – best selling author of 'Rule the World: Master the Power of Storytelling to Inspire, Influence and Succeed'.
Paul is a global authority on corporate storytelling having combined his storytelling knowledge and experience from the film and TV industry with his sales and marketing expertise and know-how from his corporate work.
He tells stories in the form of films; television programmes for BBC, ITV & Channel4; and for his company, Opus Media's, corporate clients including Subway, Formula One, The National Lottery, NHS and The National Grid, to name but a few.
Paul will empower you with skills in storytelling that will allow you to inspire and influence others, and succeed in both your professional and personal life.
Who should attend?
GrowthCLUB is designed for business owners and senior managers, many of whom choose to bring one or two of their senior team so they can hit the ground running back at the office when it comes to implementing the business growth strategy.
GrowthCLUB is for any size of business –  small, medium and large. In fact the variety makes it more interesting, and is great for extending your range of business contacts. Many of our attendees find commonality and end up selling to each other or collaborating in other ways.
Recommend a friend to GrowthCLUB and benefit from our client referral programme.
Register now
Wednesday 15th December
9:30 am - 5:30 pm
from £295+VAT
WARWICKSHIRE
The British Motor Museum
Banbury Road
Gaydon
Warwickshire
CV35 0BJ

ORGANISER'S PHONE NUMBER
01926 942 144